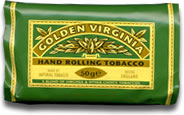 Golden Virginia is a rolling tobacco manufactured in England by Imperial Tobacco and sold throughout Europe. It is sold in varieties of 12.5g, 14g, 25g, 40g, 50g and 75g pouches. 30g pouches are available in New Zealand. 5g pouches are also sold, but only in prisons. It is one of the most popular brands of hand rolling tobacco in the United Kingdom, where it has been made since 1877.
In the Greek and Portuguese markets, the variations "Golden Virginia Yellow" light blend and the aromatic "Golden Virginia Aroma" blend may be found. This has been launched in Asia but was not a success.
Ad blocker interference detected!
Wikia is a free-to-use site that makes money from advertising. We have a modified experience for viewers using ad blockers

Wikia is not accessible if you've made further modifications. Remove the custom ad blocker rule(s) and the page will load as expected.