Ad blocker interference detected!
Wikia is a free-to-use site that makes money from advertising. We have a modified experience for viewers using ad blockers

Wikia is not accessible if you've made further modifications. Remove the custom ad blocker rule(s) and the page will load as expected.
Marlboro is the biggest selling brand of cigarettes in the world. It is manufactured by Philip Morris USA in the United States and internationally by Philip Morris International. It was launched by Philip Morris in 1924 under the slogan "Mild As May." because, originally, it was marketed as a females cigarette. This changed in the 1950's when cigarettes were found to cause lung cancer. Since males were a majority of cigarette smokers, and filtered cigarettes were thought to be safer, they redirected the marketing to men though now they are neutral on gender.
Taste and Price
Edit
On average they are anywhere from $5-$7 dollars depending on the location in the US. They are averaged priced for a premium cigarette. They are often described as having a very signature, recognizable, bold tobacco taste. They are praised for being reliable and having a strong nicotine kick.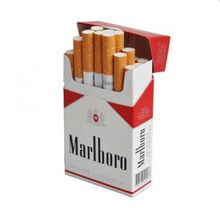 Products
Edit
Flavor line:

Marlboro Red
Marlboro Core Flavor
Marlboro Flavor Mix
Marlboro Filter/Flavor Plus
Marlboro Beyond

Gold line:

Marlboro Gold Original
Marlboro Gold Touch
Marlboro Gold Edge
Marlboro Gold Advance
Marlboro Gold Beyond

Fresh line:

Marlboro White Menthol
Marlboro Black Menthol
Marlboro Fresh
Marlboro Ice Blast
Marlboro Blue Ice
Marlboro Convertible
American cigarette varieties
Edit
Marlboro - box, 25's box, soft pack
Marlboro 100's - box, soft pack
Marlboro Eighty-Threes - box
Marlboro 72's - box
Marlboro Red Label - box, soft pack
Marlboro Red Label 100's - box, soft pack
Marlboro Gold Pack - box, 25's box, soft pack
Marlboro Gold Pack 100's - box, soft pack
Marlboro Gold Pack 72's - box
Marlboro Silver Pack - box
Marlboro Silver Pack 100's - box
Marlboro Silver Pack 72's - box
Marlboro Blend No. 27 - box, soft pack
Marlboro Blend No. 27 100's - box
Marlboro Virginia Blend - box
Marlboro Virginia Blend 100's - box
Marlboro Southern Cut - box
Marlboro Black - box
Marlboro Black 100's - box
Marlboro Edge - box
Marlboro Special Blend Red - box
Marlboro Special Blend Red 100's - box
Marlboro Special Blend Gold - box
Marlboro Special Blend Gold 100's - box
Marlboro Menthol - box, soft pack
Marlboro Menthol 100's - box
Marlboro Menthol Green Pack 72's - box
Marlboro Menthol Blue Pack - box
Marlboro Menthol Blue Pack 100's - box
Marlboro Menthol Blue Pack 72's - box
Marlboro Menthol Rich Blue - box
Marlboro Menthol Rich Blue 100's - box
Marlboro Menthol Gold Pack - box, soft pack
Marlboro Menthol Gold Pack 100's - box, soft pack
Marlboro Menthol Silver Pack - box
Marlboro Menthol Silver Pack 100's - box
Marlboro Menthol Smooth - box
Marlboro Menthol Smooth 100's - box
Marlboro Menthol Skyline - box
Marlboro Menthol Skyline 100's - box
Marlboro Menthol Black - box
Marlboro Menthol Black Midnight - box
Marlboro Menthol Black 100's - box
Marlboro NXT - box
American snus varieties
Edit
Marlboro Snus Original
Marlboro Snus Mint
Heatsticks
Edit