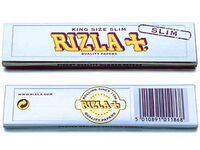 RIZLA+ (known commonly as "Rizla") is a brand of papers in which tobacco is rolled to form cigarettes. Rizla rolling papers are available in a range of thicknesses and sizes, indicated by the colour of the packaging. Rizla is the world's number one selling brand of rolling papers and is available in over 120 countries worldwide.
Ad blocker interference detected!
Wikia is a free-to-use site that makes money from advertising. We have a modified experience for viewers using ad blockers

Wikia is not accessible if you've made further modifications. Remove the custom ad blocker rule(s) and the page will load as expected.