Top
is a brand of cigarette rolling papers distributed by Republic Tobacco of Glenview, Illinois. Republic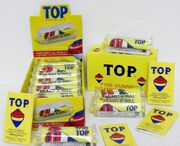 Tobacco paid an undisclosed amount to acquire the brand from R. J. Reynolds in 1987.
Manufactured and imported into the United States from France, Top papers are available in two different styles, regular and 1½ size. Both size variations are sold in virtually identical light-yellow-colored packages with blue lettering, as well as a red and blue top which adorns its center. Top papers are most prevalent in the Midwestern United States, where they are popular within the marijuana-smoking culture. Top also produces a line of cigarette making tools to make rolling cigarettes easier.
Products
Edit
Papers

Top Single Wide
Top 1 1/2

Tubes

Top 100mm Tubes - 1000 Tubes
Top 100mm White Tubes - 1000 Tubes
Top Tubes - 1000 Tubes
Top White Tubes - 1000 Tubes

Filters

Top Filters
Top King Size Filters

Rollers, Injectors, and Shooters

Top Clear Rollers - 70mm
Top Shooter/Injector
Top-O-Matic Shooter/Injector
Top-O-Matic T2 Tabletop Injector
Ad blocker interference detected!
Wikia is a free-to-use site that makes money from advertising. We have a modified experience for viewers using ad blockers

Wikia is not accessible if you've made further modifications. Remove the custom ad blocker rule(s) and the page will load as expected.