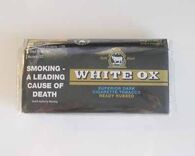 White Ox rolling tobacco, like Winfield, Drum, or Champion is a product catering for the "roll your own" market.
White Ox in Prison
Edit
White Ox is a Dark Tobacco making it a stronger smoke.Due to the strength and the cost, White Ox was a popular tobacco in Australian Jails before the new laws banning smoking in All jails.
White Ox and Australian Youth
Edit
White Ox is also popular with youth in Australia, mainly in Tasmania where it is smoked in bongs and pipes or mixed with cannibis This is due also to its alleged high nicotine content. White Ox produces a strong "headspin" when large amounts are smoked quickly
In Australia a 30g pouch costs $32 to $35.Whilst a 50gm will set you back $70
Ad blocker interference detected!
Wikia is a free-to-use site that makes money from advertising. We have a modified experience for viewers using ad blockers

Wikia is not accessible if you've made further modifications. Remove the custom ad blocker rule(s) and the page will load as expected.